15 Minute AMRAP Jump Rope Workout
5
Published Aug 07, 2017, Updated Apr 19, 2019
Got 15 minutes? Try this quick AMRAP jump rope workout that will get your heart pumping while targeting your legs and core. No equipment needed (besides a jump rope), unless you want to make it bit more challenging and add weights. 
"Never miss a Monday" is one of my favorite fitness quotes and it's one that's stuck with me since I started my healthy lifestyle back in college.
What you do on Monday sets the tone for your whole week, just as breakfast sets the tone for your entire day. There's a host of reasons why getting a workout in on Monday is good for you — you're less likely to skip your workouts later in the week, you'll be happier (hello endorphins), you'll let go of anxiety/stress and get a better night's sleep on Monday evening.
All that said, I know that Mondays are usually super busy and it can be a challenge to fit in a workout when your to-do list is loaded down. That's why I'm a big fan of quick, but effective workouts that you can do just about anywhere. The one I'm sharing today is only 15 minutes and all you need is a jump rope! Of course, I've provided options so if you do have access to weights and feel comfortable adding them into the routine you certainly can.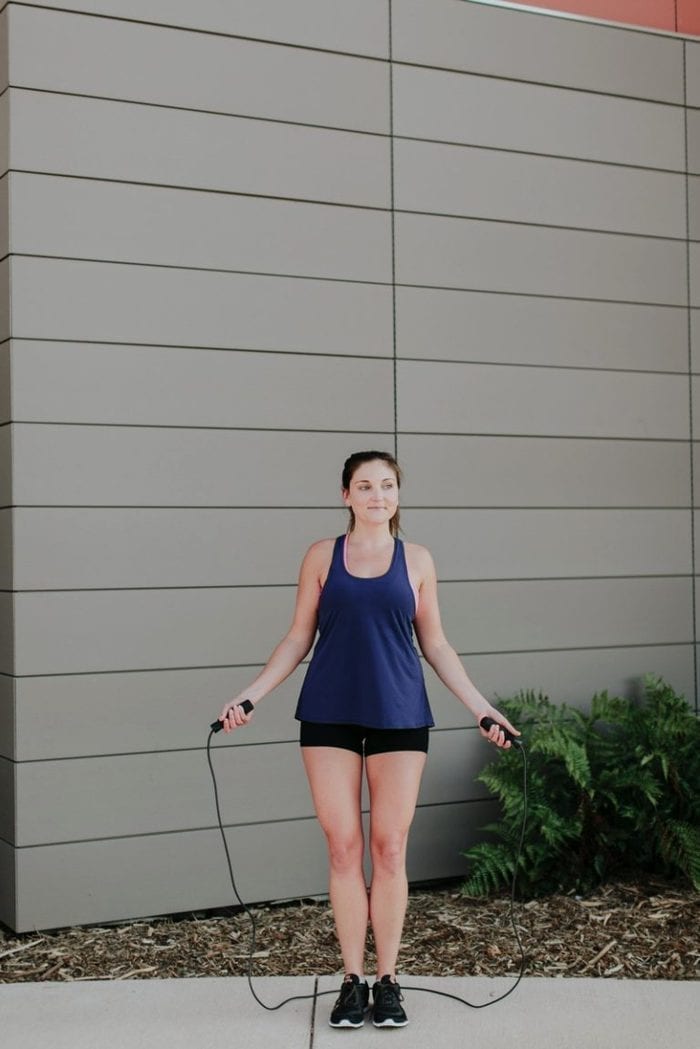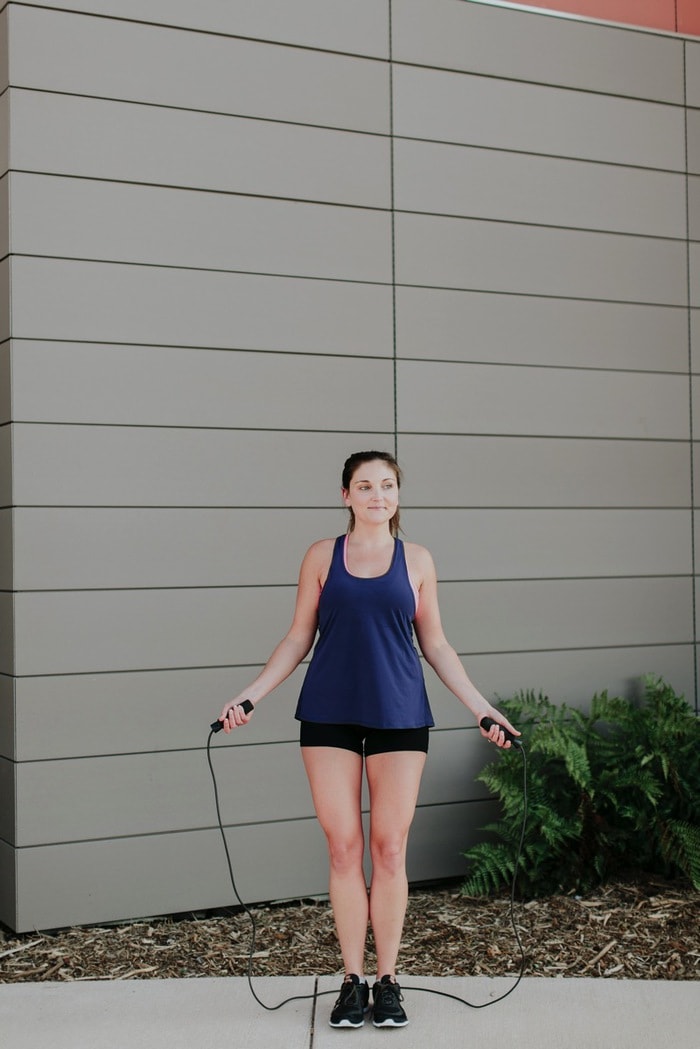 I need to do a full update, but as of October of last year I've been going to a fitness studio that focuses on strength training and I'm absolutely loving it. At the end of each workout we usually do some sort of conditioning that lasts about 5 to 15 minutes and sometimes it's an AMRAP workout, which is what inspired me to share this workout today.
AMRAP means As Many Rounds as Possible so with this 15 minute AMRAP you'll set a timer for 15 minutes and complete the four workout moves in the order I've suggested as many times as you can until the timer goes off. You'll be working at a quick pace and there's no built in rest. If you need to take a break, simple rest for a few seconds and then jump right back into the completing the moves. I've included two different variations of the workout — the regular version and the Level Up version for those that want to take it to the next level. For the Level Up challenge you'll be adding dumbbells to your lunges (choose a weight that feels challenging but doable). When I'm doing this workout I use 12-15lb dumbbells while doing the lunges. And you might also choose to do goblet squats with a dumbbell/kettlebell instead of air squats. You get to choose based on what you feel is challenging to you!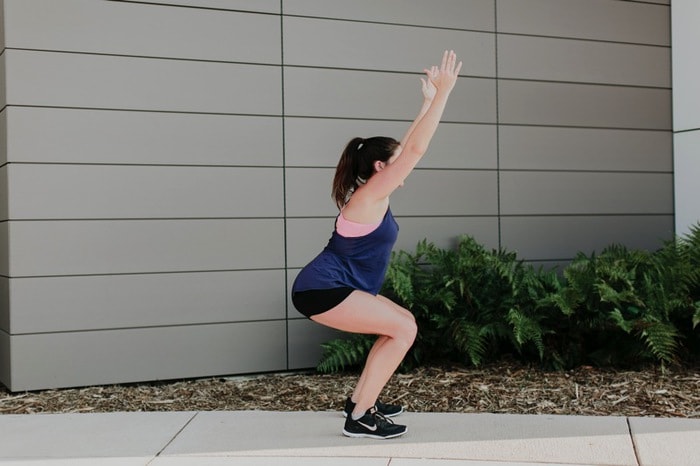 For the jump rope portion you can do regular single under jumps or take it to the next level and do double unders. Double unders are a CrossFit move where the rope makes two passes per jump instead of just one. This is a difficult move to master  and it's one I'm still working on. Doing 20-50 double under jumps in a row is definitely a challenge, but I wanted to add it as an option just in case you're an advanced jump roper.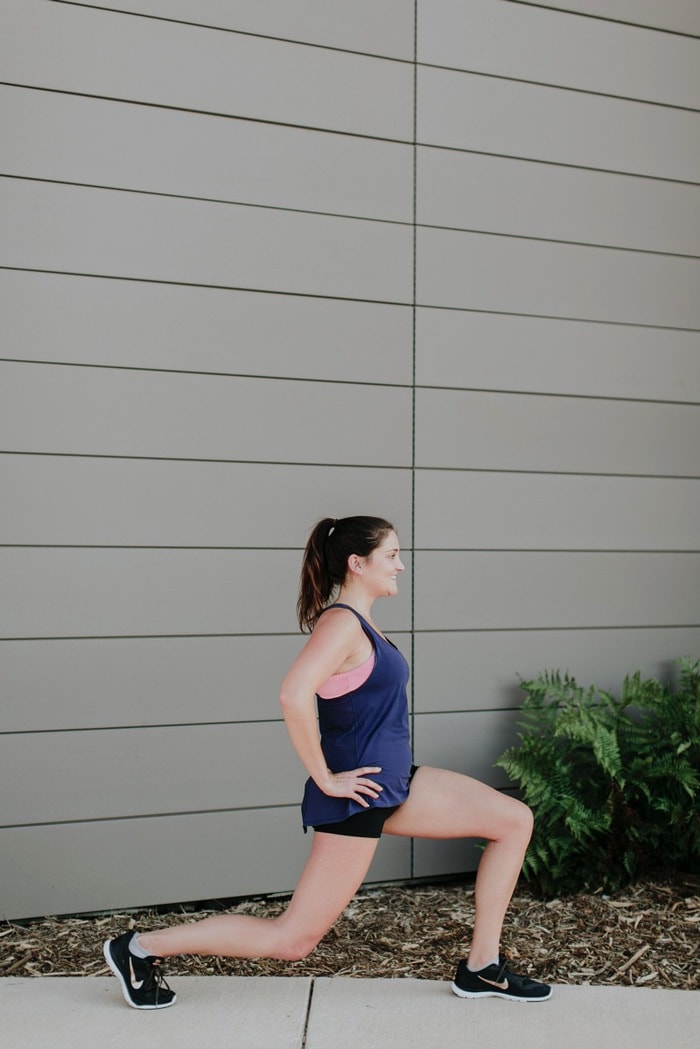 what I'm wearing: Lorna Jane Xenta Sports Bra, Lululemon Groove Short II, Lululemon Tank (similar)
The rest of the moves are pretty self-explanatory, but I've linked to a couple videos so you can check to make sure you're doing each exercise correctly with good form. The workout can be done on it's own if you're strapped for time or you could do add this routine at the end of your leg-day workout.
15 Minute AMRAP Jump Rope Workout
100 single under jumps with jump rope
20 air squats
1 minute plank hold
Set a timer for 15 minutes and do each move in the order listed. Complete as many rounds as possible. 
Level Up 15 Minute AMRAP Jump Rope Workout
Set a timer for 15 minutes and do each move in the order listed. Complete as many rounds as possible. 

Let me know if you like this style of workout and if you do end up trying this one be sure to leave a comment with how many rounds you get! Or better yet, send me a sweaty selfie on Instagram.
Disclaimer – This content is for informational purposes only. Listen to your body while working out and be sure to consult a physician before performing this or any exercise routine if you're just getting started.