Thank you all for the happy anniversary wishes! Even though this is a healthy food and fitness blog, it's fun to share those type of milestones. I hope you don't mind.
Now it's time to get back to the 12 Days of Cookies…
The two recipes I'm featuring today aren't necessarily cookies, but they're related and that totally counts in my book – especially when gingerbread is involved. First up Allie of Live Laugh Eat shared her holiday biscotti with pumpkin and gingerbread flavors. I'm particularly excited about this recipe because I have recently rediscovered my love for biscotti. They had samples of chocolate chip biscotti out at Great Harvest when we visited on Saturday and I couldn't stop eating it. The crunch factor makes it so fun to chomp!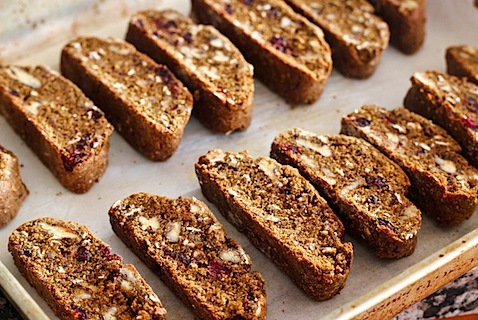 Doesn't Allie's biscotti look amazing? I'm thinking it would make a great holiday gift!
Pumpkin Gingerbread Biscotti
Original Post on Live Laugh Eat / Adapted from Joy of Baking
Ingredients
1/2 cup rolled oats
1/2 cup oat flour
3/4 cup whole wheat pastry flour
1 cup all purpose flour
3/4 cup dark brown sugar
1/2 tsp salt
1 tsp baking powder
1/2 tsp baking soda
1 1/2 tsp pumpkin pie spice
2 large eggs
1/4 cup blackstrap molasses
2 TBSP pumpkin butter
2 TBSP canola oil
1/2 tsp vanilla extract
3/4 cup pecans, chopped and toasted
3/4 cup dried cranberries
Directions
Preheat oven to 350* F. In a large mixing bowl, combine dry ingredients (oats, flour, brown sugar, salt, powder, soda, spices). Use your hands to crumble up the brown sugar to break down the large clumps, if needed. In a separate bowl, whisk together wet ingredients (eggs, molasses, pumpkin butter, oil, vanilla). Slowly add the wet ingredients to the dry ingredients and stir until just incorporated. Mix in pecans and dried cranberries (or desired mix-ins).
Form the dough into 2 mounds and roll out each mound into a 2 x 12 in. log on a lightly floured surface. Place both mounds a few inches apart on a baking sheet lined with parchment paper. Bake both logs at 350* F for 25 minutes or until golden brown. Remove logs from the oven and allow to cool.
Cut logs on a diagonal into 1″ pieces. Lay the pieces down on their sides and bake at 275* F for 8 minutes. Flip biscotti over and bake for another 8 minutes. Allow the biscotti to cool completely before storing in an airtight container.
The next recipe isn't a cookie, but it's gingerbread related and I couldn't resist including. For one, How Sweet It Is is one of my favorite blogs and two, I love almond butter more than any other nut butter. 🙂

Homemade Maple Gingerbread Almond Butter
Original Post on How Sweet It Is
makes about 3/4 cup butter, can be easily doubled
1 cup raw, unsalted whole almonds
1 1/2 teaspoons maple syrup
2 teaspoons molasses
3/4 – 1 teaspoon ground ginger
1/2 teaspoon cinnamon
pinches of each: salt, ground cloves, nutmeg
if needed: 1/2-1 teaspoon of canola (or flavorless) oil
Preheat oven to 375 degrees
Lay almonds on a baking sheet in a single layer. Roast for 8-10 minutes, flipping once or twice. Remove and let cool for a few minutes.
Add roasted almonds to a food processor and blend until it just becomes smooth, about 3 to 4 minutes. Add in molasses, maple syrup and spices, then continue to blend (while scraping the sides down every so often) until butter comes together – about another 5 minutes. Butter will be a a thicker and bit sticker than traditional almond butter. Store in the fridge.
Note: if needed, blend in a teaspoon or less of flavorless oil to help the butter come together.
Enjoy these recipes!! Per the ususal, I'll be back tomorrow with more. And guess what? The countdown is officially on – only 8 more days until Hanukkah and 13 until Christmas! I'm excited but also a tiny worried. I still have a lot of shopping to do. I better get on that.