Happy Mod Fam day! I'm hoping it's a new episode tonight and not a re-run like last week. That made me sad! You know what makes me happy? COOKIES!! And today I have two scrumptious recipes to share for molasses cookies. They're both different, which means you have a good reason to give both recipes a try.
The first recipe is for traditional, chewy molasses cookie and was submitted by Teenage Health Freak.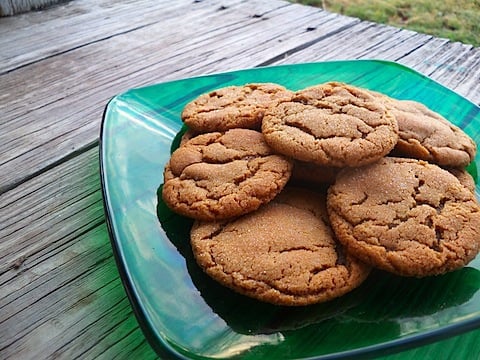 Pair these cookies with a glass of milk and you'll be ready for Santa.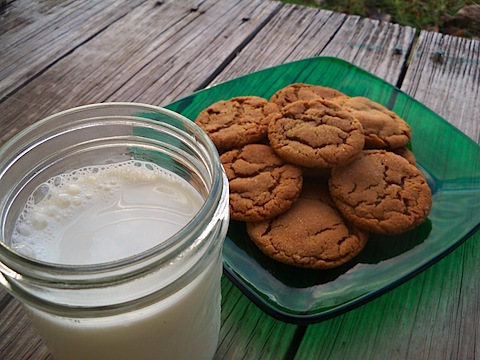 Joanna Pruess's Molasses Spice Cookies
from: From Great Cookies:Secrets to Sensational Sweets by Carole Walter
Ingredients
3/4 cup (1 1/2 sticks) unsalted butter
2 cups all-purpose flour, spooned in and leveled
2 teaspoons baking soda
1 teaspoon ground cinnamon
1 teaspoon ground ginger
3/4 teaspoon salt
1/2 teaspoon cloves
2 cups sugar, divided
1/4 cup dark molasses
1 large egg
Preparation
Make the dough: Melt the butter in a 3-quart, heavy saucepan over low heat. (This cookie is mixed by hand in the pot.) Cool to tepid.
Strain together three times the flour, baking soda, cinnamon, ginger, salt and cloves. Set aside.
Using a wooden spoon, stir 1 1/2 cups of the sugar, the molasses and egg into butter, mixing until smooth. Add the dry ingredients, one-half at a time and blend well. Cover with wax paper and chill of 30 to 45 minutes, until firm.
Bake the cookies: Position the shelves in the upper and lower third of the oven. Heat oven to 375 degrees. Moderately butter the cookie sheets.
Shape dough into 1-inch balls between the palms of your hands. Place the remaining 1/2 cup of sugar in a shallow dish and roll the balls of dough in the sugar. Place the balls 2 inches apart on the cookie sheet.
Bake the cookies for 8 to 10 minutes or until the tops begin to crack. Toward the end of the baking time, rotate the pans from top to bottom and front to back. Remove from the oven and let stand 2 to 3 minutes. Loosen with a spatula and transfer to a cooling rack.
I wanted to point out that molasses is just left over liquid from the sugar extraction process of boiling sugar cane and sugar beets AND there are 3 different types of molasses out there:
Light – from the first boiling with a sugar percentage of 65%, it's both light in flavor and taste. You can often substitute light molasses for darker varieties, but darker varieties don't normally work well as substitutes for light molasses.
Dark– from the second boiling with a sugar percentage of 60%, it's darker and has a more robust flavor than light molasses
Blackstrap – from the third boiling with a sugar percentage of 50-55%. This variety is less sweet and more flavorful, a bit bitter, but more robust and nutritious. It's an excellent source of iron, calcium, manganese and Vitamin B and E, as well as many trace minerals. One spoonful of blackstrap is said to have as much iron as 9 eggs, and more calcium than a full glass of milk.
Whenever recipes call for dark molasses, I always use blackstrap and Isaac and I really like the flavor. Definitely try it sometime if you want to add a little healthiness to your cookies.
Okay, enough nutrition talk for today. This is a holiday cookie post after all… and we all know there are no calories in holiday cookies. Right? 🙂