How's your weekend going? So far so good on this end! The more cookie recipes I post as part of the 12 Days of Cookies series, the more I want to stay in my kitchen all day and bake a zillion batches of cookies. Needless to say I'm super excited for my family's annual cookie bake. My list of cookie recipes to try this year keeps growing rapidly as this series continues.
Today I have some lemon cookie recipes to share from three wonderful bloggers. Lemon seems to be an underutilized ingredient in baked goods – at least in my kitchen, so I was pumped to see these recipes for lemony cookies. I need to make some this year to remind myself just how tasty and sweet lemon can be.
The first cookie is from Mara of What's For Dinner. Just in case you didn't know, Mara is a quite the baking genius so I'm sure these buttery cookies are delicious.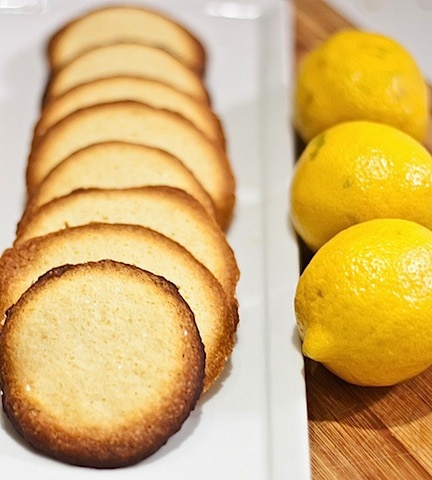 Buttery Lemon Cookies
Original Post on What's For Dinner
Ingredients (2 dozen cookies)
10 Tablespoons (1 1/2 sticks) unsalted butter, softened
1 1/4 cups white sugar
1 1/2 cups all-purpose flour
2 eggs
1 teaspoon vanilla extract
1/2 teaspoon salt
1/2 teaspoon baking powder
2 Tablespoons fresh lemon juice
1 ounce lemon extract
raw sugar for sprinkling
Instructions
Preheat the oven to 350*F.
Cream together the butter and sugar until light and fluffy, add vanilla.
Add the eggs, one at a time, mixing well after each addition.
In a separate bowl, mix together the flour, salt, and baking soda. Add in 3 additions to the butter mixture.
Add the lemon juice and lemon extract, mix well.
Spoon onto a prepared cookie sheet about 2″ apart, as the cookies will spread.
Sprinkle with raw sugar.
Bake until lightly browned, about 20-22 minutes.
The next lemon cookie recipe is from Marci, who definitely knows what's up as she took her lemon cookies and dipped them in chocolate! I'm quite certain that everything is better with chocolate – especially cookies.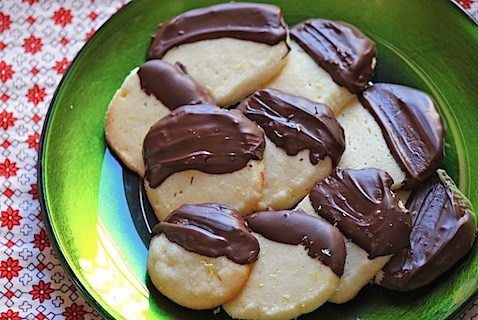 Chocolate Dipped Lemon Cookies
Original Post on Marci Gilbert's Blog / Adapted from Martha Stewart
Ingredients
2 cups all-purpose flour
1 cup confectioners' sugar (powdered sugar)
1 teaspoon coarse salt
1 tablespoon plus 1 teaspoon lemon zest
1 teaspoon fresh lemon juice
1 cup (2 sticks) unsalted butter, cut into pieces
2 large egg yolks
1/4 cup granulated sugar, for rolling
4 oz Baker's Chocolate, semi-sweet
Directions
In a food processor, pulse flour, confectioners' sugar, salt, and lemon zest until combined. Add butter and process until sandy. Add egg yolks and lemon juice; pulse until dough comes together. Divide dough in half and form each into a 1 1/2-inch-wide log. Wrap in plastic and freeze until firm, about 2 hours (or up to 1 month).
Preheat oven to 350 degrees, with racks in upper and lower thirds. Spread granulated sugar on a piece of parchment; roll logs over sugar to coat. Slice logs into 1/4-inch-thick slices and arrange, 1 inch apart, on two parchment-lined baking sheets. Bake until cookies are golden brown around edges, about 15 minutes, rotating sheets halfway through. Transfer cookies to wire racks to cool.
Once cool, melt four squares (4 oz) baking chocolate in a microwave safe dish. Quickly spoon or dip cookies in the chocolate and place back on wire rack to harden.
Freeze or serve within a day.
Last but not least, Suki of Super Duper Fantastic shared her lemon honey cookies. They have a sweetness from lemon honey creme and a bit of chew from dried cranberries. I love dried fruit so this one is right up my alley.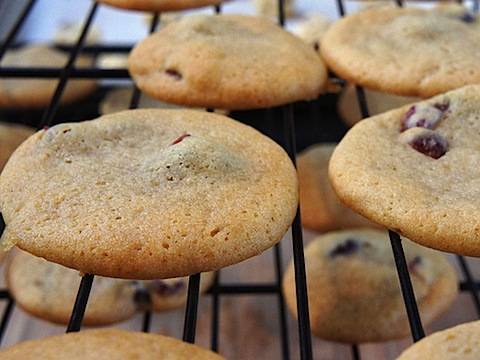 Lemon Honey Cookies with Cranberries
Original Post on Super Duper Fantastic
Ingredients:
1 cup butter, room temperature
3/4 cup brown sugar, packed
2 eggs [I used three small ones]
1 cup lemon honey creme
1 teaspoon vanilla
3 1/2 cups flour
2 teaspoons baking soda
dried cranberries
What To Do:
Cream the butter and sugar.
Add eggs, lemon honey creme, and vanilla. Blend until smooth with the mixer.
Into this mixture, add flour, baking soda and cranberries. Mix into a thick dough.
Chill dough until firm, preferably in freezer, approximately 2 hours. I didn't wait that long.
When ready, preheat oven to 350 degrees.
Pull off small pieces and roll into 1-inch balls. Place on ungreased cookie sheet.
Bake for 10 to 15 minutes or until golden. 12 was my magic number.
Enjoy these lemon cookie recipes and have a wonderful Sunday. I have a meeting this afternoon, a pilates session and then it's grocery shopping time – gotta stock up on healthy eats as I'm going to try to stay committed to following my eating plan this week. It might be more difficult as the holidays approach (especially when I have a batch of cookies calling my name every time I walk into the kitchen) but it's definitely doable. I'll keep y'all posted. 🙂