I'm glad that you all are enjoying the 12 Days of Cookies so far. Today is Day 2 and it just so happens I have a few fruity and festive cookie recipes to share.
First up, Kelly from the Pink Apron sent me her Chocolate-Orange Cookie Dough Truffles.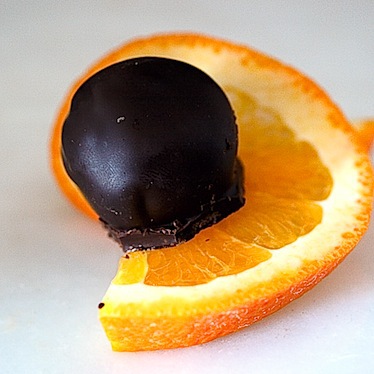 Fruit liqueur + Chocolate… yes please!!
Chocolate-Orange Cookie Dough Truffles
Yields about 5 1/2 dozen
Ingredients:
Filling:
1/2 cup unsalted butter, room temperature
3/4 cup packed light brown sugar
1/8 teaspoon salt
1 rounded teaspoon finely grated orange zest (not packed)
2 tablespoons Cointreau, or other orange liqueur
1 teaspoon vanilla
2 cups all purpose flour
1 can (14 ounces) sweetened condensed milk
1/2 cup miniature dark chocolate chunks or miniature chocolate chips
Coating:
2 cups chopped dark chocolate
2 tablespoons shortening
Preparation
For the filling, cream butter and brown sugar until light and fluffy. Beat in salt, zest, Cointreau, and vanilla. Gradually add flour, alternately with milk beating well after each addition. Stir in chocolate chunks. Shape into 1 inch balls; place on waxed paper-lined baking sheets. Alternatively, grease and flour small silicone truffle molds and press in cookie dough. Loosely cover and refrigerate for one to two hours or until firm.
Bring a saucepan of water to a simmer over a burner. In a glass bowl combine the dark chocolate and shortening. Place over the saucepan (the water should NOT touch the bottom of the bowl) and stir until chocolate and shortening are melted and well combined. Dip cookie dough in coating, allowing excess to drip off; place on waxed paper-lined baking sheets. Refrigerate until firm, about 15 minutes.
Maria from Two Peas and Their Pod shared her recipe for Pomegranate White Chocolate Chunk Cookies and they look incredible!!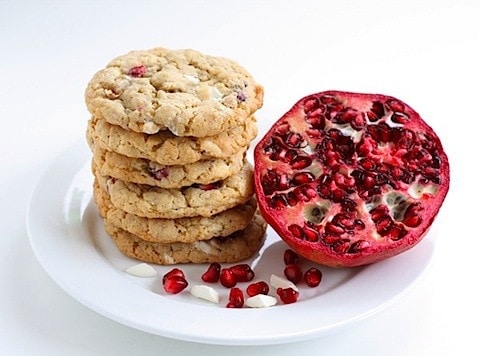 Photo courtesy of Two Peas and Their Pod.
Lauren from Veg:ology, a lovely, local blogger sent me her recipe for Persimmon Cookies with Cranberries and Walnuts.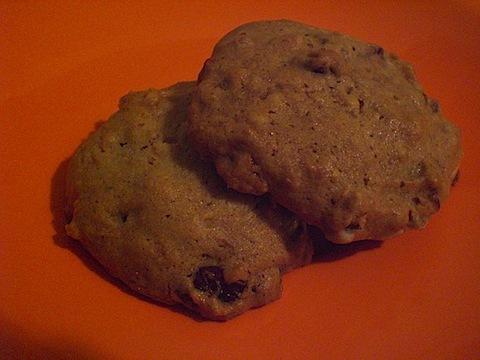 Although I rarely get to eat persimmons, I love them and think these cookies sound heavenly.
Persimmon Cookies with Cranberries and Walnuts
Ingredients
2 ripe persimmons, pureed
1 teaspoon baking soda
2 cups all-purpose flour
1/2 teaspoon ground cinnamon
1/2 teaspoon ground cloves
1/2 teaspoon ground nutmeg
1/2 teaspoon salt
1 egg
1 cup white sugar
1/2 cup butter
1/2 cup dried cranberries
1/2 cup chopped walnuts
Preparation
Preheat oven to 350 degrees F.
Dissolve baking soda in persimmon pulp and set aside.
Sift flour, spices and salt together, set aside.
Cream together butter or margarine and sugar until fluffy, beat in egg and persimmon. Stir in dry ingredients. Stir in nuts and cranberries.
Drop by teaspoonfuls onto greased cookie sheet. Bake for 15 minutes.
Last but not least, Clare from Fitting it All In sent me a recipe for Gluten-Free, Dairy Free Chocolate Cranberry Cookies from Living Without. I don't have a photo, but they sound delicious. Plus,  I know there are plenty of readers that are striving for a diet free of both gluten and dairy and it can be a challenge, particularly during the holidays so this recipe is a special shout out to them!
Alright, that's enough cookies for one day… enjoy the recipes and come back tomorrow for another yummy batch!