So today is day 12th day of the 12 Days of Cookies. This means the series should technically be over, but it turns out that I have more recipes to share soooo the series will continue… woot woot! And, I saved some of the best for last so get excited!
Both of the recipes being featured this morning include marshmallows and I have a feeling they'll have you wanting s'more. 🙂
Mallow lovers and peanut butter fanatics will rejoice when they see the combo that's being created in Susan's recipe below – scroll down to see what I mean…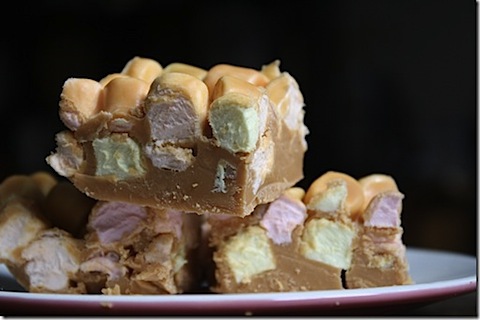 Another tasty treat with only 4 ingredients – yes please!
Dreamy Marshmallow Squares
Original Post on The Great Balancing Act
1/2 cup butter or 1/2 cup margarine

1 cup peanut butter

1 (300 g) bag butterscotch chips

1 (200 g) bag mini marshmallows
Directions:
Melt together butter, peanut butter, and butterscotch chips on very low heat until mixed, stirring constantly. Cool for a bit (so as not to melt the marshmallows).

Stir in mini marshmallows.

Pour in a greased 11″ x 13″ pan.

Refrigerate and cut into small (1-1/2″) squares.
Next up- Sam's S'more cookies! I'm not sure you can get much better than s'mores cookies, but as it turns out, it does get better because Sam is actually holding a giveaway on her blog to go along with this cookie recipe – click over to check out the giveaway and enter to win!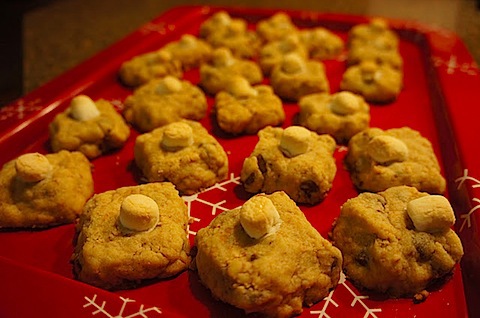 Sam's S'more Cookies
Original Post on Sam Bock Illustration & Design
Ingredients:
1 cup all-purpose flour
1 cup whole wheat flour
3/4 cup salted sweet butter, softened
2/3 cup sugar
1 teaspoon vanilla extract
1 teaspoon baking soda
1 egg yolk
4 sheets reduced-fat honey graham crackers, crushed
1/2 cup Hershey's Milk Chocolate Chips
Mini-marshmallows (1 to top each cookie)
Directions:
Preheat the oven to 350°.
In a stand mixer, add flour, butter, sugar, vanilla, baking soda, and egg yolk. Let mix until you achieve a breadcrumby consistency.
Mix in crushed graham crackers. Batter should still resemble breadcrumbs, but will be able to mold into a ball.
Stir in chocolate chips.
Put batter in an airtight container and chill for at least thirty minutes.
On a parchment paper-lined baking sheet, mold your batter into 1.5″ squares. Put in oven for 4 minutes.
Remove cookies from oven, and place one mini-marshmallow on top of each cookie. Put back in the oven for 4 more minutes. The marshmallow tops will start to brown.
Remove from oven and let sit for a minute on baking sheet, and then transfer to a wire rack to cool. Or eat gooey cookie immediately, if you are like me (i.e., super impatient and extra-hungry for cookies).
Enjoy your Thursday friends!