10 Tips for Staying Healthy While Working From Home
12
Published Mar 23, 2020, Updated Nov 18, 2021
Staying healthy while working from home can be a real challenge, but it's totally possible. After six years of working from home I have learned a ton! Here are my best tips.
I know that many of you have recently transitioned to working from home in the past week or so. In theory, working from home sounds great — you can sleep in, wear whatever you like and make yourself a homemade lunch. On the other hand, working from home is difficult because there can be a ton of distractions at home, it's hard to create boundaries and it's easy to run into the kitchen to snack whenever you get stressed.
I know many of you are craving your normal work routines with your offices and desks, SO I wanted to share my best tips for working from home… and staying healthy and productive!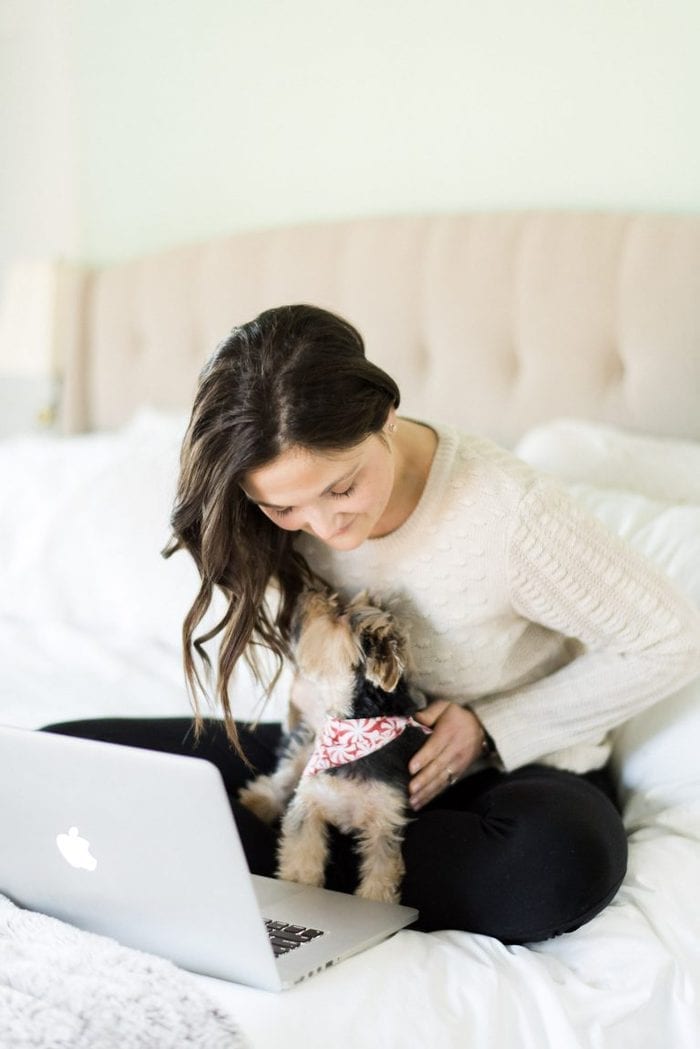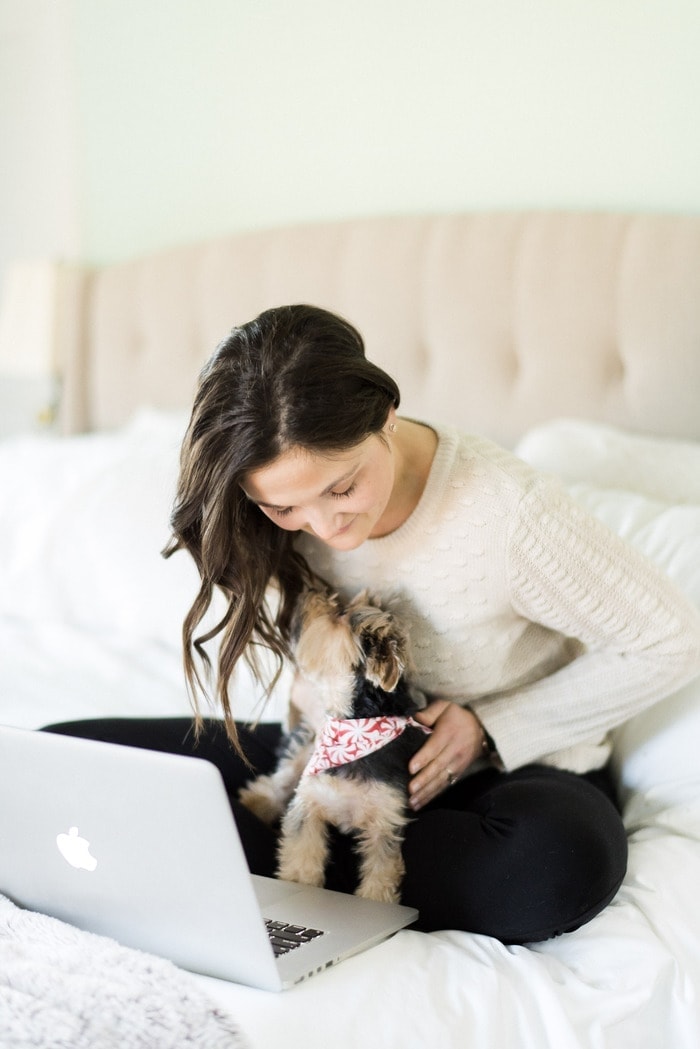 1. Have a morning routine. Think about your routine prior to working from home. You likely did at least a few of these things daily: shower, do your hair, put on make-up, sip a cup of coffee, walk your dog, commute in to work. With working from home, it's so easy to just roll out of bed and onto your computer. As tempting as this may be, don't do it! Keep your morning routine. It might look a little different, but reserve that time for you. Pro tip: You don't have to do a full face of make-up, I certainly don't. But I have a few items I swear by to make myself look put together. Two of go-to skin products that leave my face feeling refreshed and glowy are Tula's cooling & brightening eye balm and their face filter blurring primer. In terms of make-up I can't live without brow gel and this mascara.
2. Get dressed. I know it's tempting, but don't stay in your pajamas all day. Wake up, do your usual morning routine and be sure to throw on some real clothes! No need to dress in full on business casual, but put on something that makes you feel productive! I'm sharing some of my favorite WFH items below but my current uniform usually involves leggings (these or these) and this waffle top (I have it in four colors). If I'm feeling fancy or have a visitor, I'll put on a pair of jeans.
3. Create a list of top priorities for the day. If you're like me, you feel like you have a never-ending to-do list. I like to write out everything I have to do for the week and then each day pick top priorities to focus on. Limit this to just 3-5 items! I use this journal which has a spot for 5 game day tasks, which is perfect.
4. Have a dedicated work space. If you have a spare room you can turn into an office, great. If not, create a space in your home that can serve as an office for now. This might be your kitchen table, a corner of your bedroom… anywhere! I have a home office with a sit to stand desk and Isaac typically sits at the dining room table, which isn't ideal. Hopefully one day we'll have space for him to have a home office as well.
5. Have a planner or make a schedule. Block off set times to do certain work tasks and block off other times for lunch, movement, housework, personal calls, etc. When you're home all day, it's easy for the day to blur into one long work day. Set aside times for specific tasks. I also like to set "working hours." It's easy to be online from the moment you wake up to when you go to bed, so I try to only work during my set working hours each day and keep my computer closed at night.
6. Take an actual lunch break! Don't eat your lunch in front of the computer. Close down your computer and take your usual lunch break. I'll be the first to admit that I'm not the best at this one, but it's seriously so good for your mental health to take an actual break. It's also healthier because you're able to focus on what you're eating, which will help prevent overeating.
7. Plan out your meals for the day. When I know the plan for the day, I'm less likely to skip meals or raid the pantry when lunchtime or the 3:00 PM snack time hits.
8. Keep healthy snacks on hand. Trust me, it's so easy to fall into the habit of mindless snacking when you work from home. And if you're surrounded by sweet treats and unhealthy munchies all day, it's much more tempting to grab those! If you have health snacks like fruit, protein bars and energy bites, it's much more likely that you'll be inspired to reach for those instead. Some of my favorite healthy snacks: veggies and hummus, protein balls, chia pudding and/or smoothies.
9. Get outside! I try to get outside once a day, even if it's just a short walk around the block. Fresh air and a little Vitamin D do wonders for your mental health and productivity!
10. Move. I've mentioned this in a few other points but I highly recommend getting daily movement in! Go on a run or a walk or do an at-home workout. There are a ton of apps that are offering free workouts right now. Here are some I recommend:

I hope these tips are useful as you navigate life working from home. I know it can take a bit to get used to a new routine, but you'll find your rhythm after a few weeks! And who knows, maybe you'll find that you're even more productive at home than at the office!