10 Things You Probably Didn't Know About Almonds
14
Published Sep 04, 2014, Updated Aug 02, 2021
Remember me mentioning that I traveled to California last week? I was there on a media trip with the Almond Board of California getting the tree-to-table experience — hearing from industry experts, visiting an almond orchard and an almond processing facility, learning about almond nutrition research and indulging in innovative almond dishes. Oh and wine! You simply can't go to a wine region in Cali and skip the wine. 🙂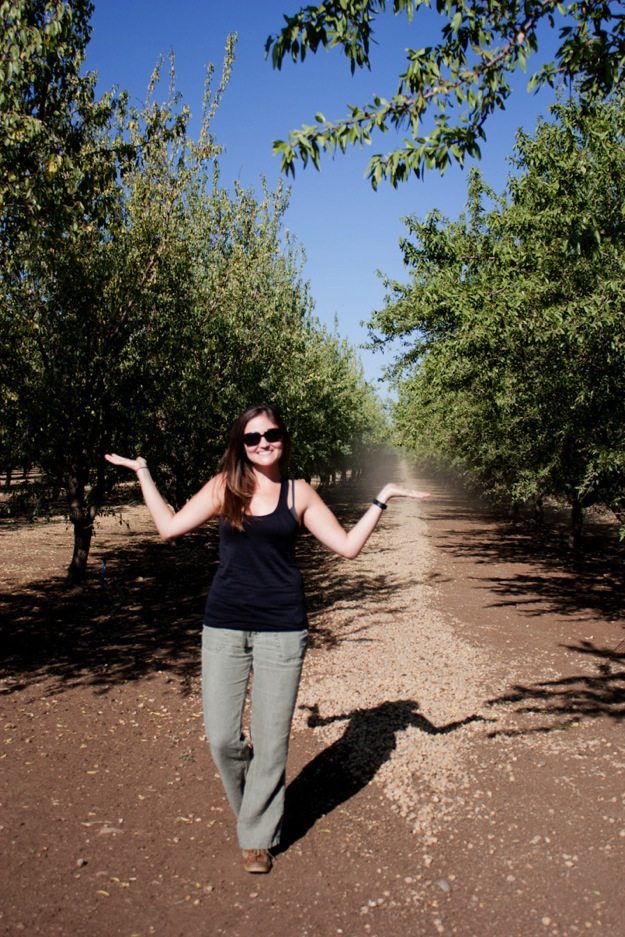 The trip was amazing, but talk about information overload — I learned sooo much about almonds. It's crazy! Since being home, I've literally been talking about almonds with everyone I come in contact with because I'm so fascinated by the whole growing process.
When thinking about how I should share the deets about my trip plus all the goodness that I learned, I decided to make the information a bit more digestible by breaking it down into a simple bulleted list. So here ya go — here's what I learned about almonds, in a nut shell.
1.) 80% of the world's almonds are grown in California and no other state in the US grows them commercially. The California almond farms span 500 miles of the Central Valley with 6,500 growers — 72% of which are family owned farms. The rest of the world's almonds come from places like Spain and Australia.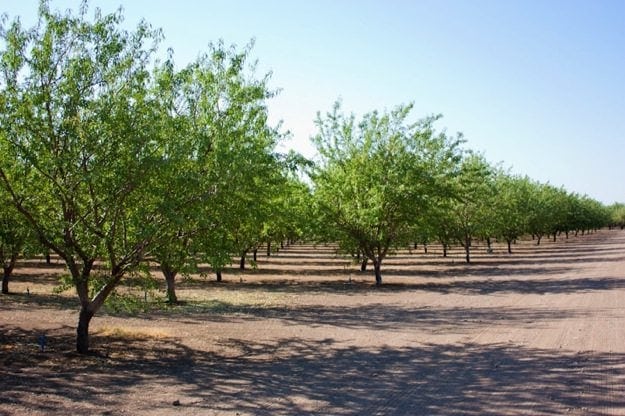 2.) Almonds grow on trees in three parts — the hull, the shell and the kernel. The hull is a bit fuzzy and reminds me of the outside of a peach, but thicker. The shell is a thick layer that protects the kernel. The kernel is the the actual nut that we eat. Although the majority of almonds sold in the US are shelled, most of us have seen the shells before but probably not the hulls. I always correlate unshelled nuts with the holidays because my mom used to buy and have them out in a bowl on our dining room table for guests to enjoy. The cool part about the hulling and shelling process is that nothing goes to waste. The hull is sold to dairy farmers and is used as feed for the cattle. The shells are sold to co-generation plants to be used as a fuel source or to farmers for livestock bedding.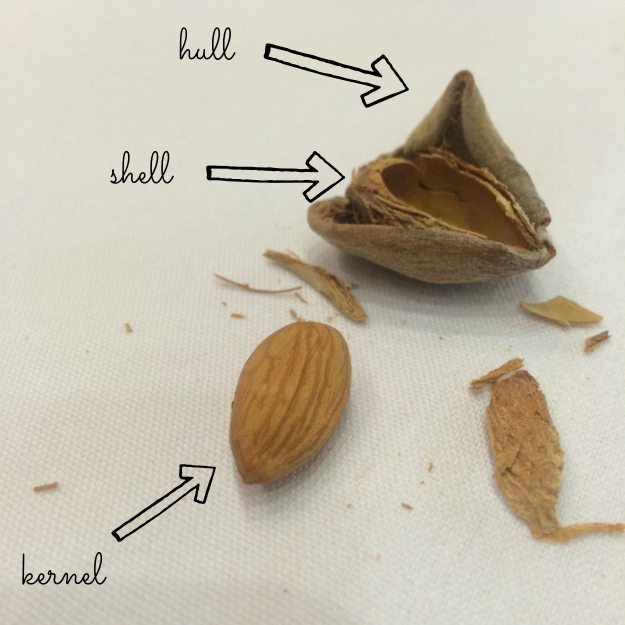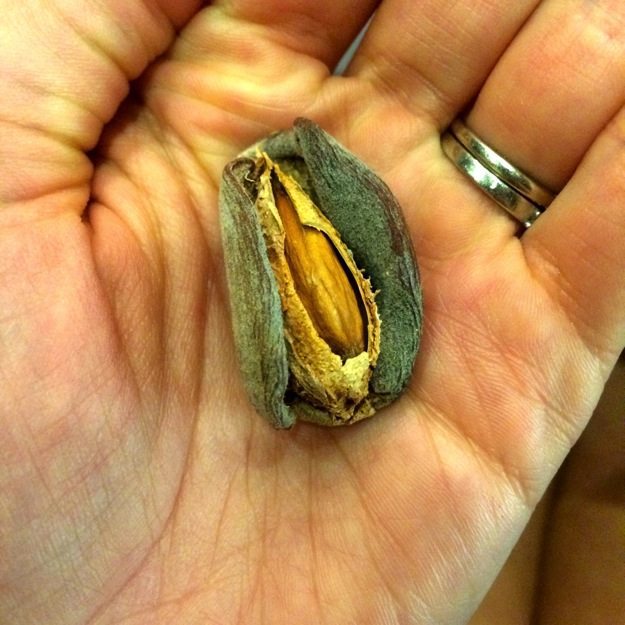 3.) There are a bunch of different varieties of almonds. In California the three major classifications are Nonpareil, California, and Mission. The most popular/marketable type is Nonpareil. Their thin outer shell and smooth kernel allow for easy, blemish-free processing. As a result, Nonpareil are used anywhere an attractive appearance or a strong almond identification is important. (Learn more about the different almond varieties here.)
4.) Almond varieties are "self-incompatible" which means that pollen of one variety doesn't pollinate itself. Each orchard is planted with at least two, usually three different varieties in adjacent rows to allow for cross-pollination. The farmers rely on bees to move the pollen from one variety to the next. If there are no bees, almonds don't grow so farmers rent honey bees for a portion of the year — about six weeks while the almond trees are in bloom.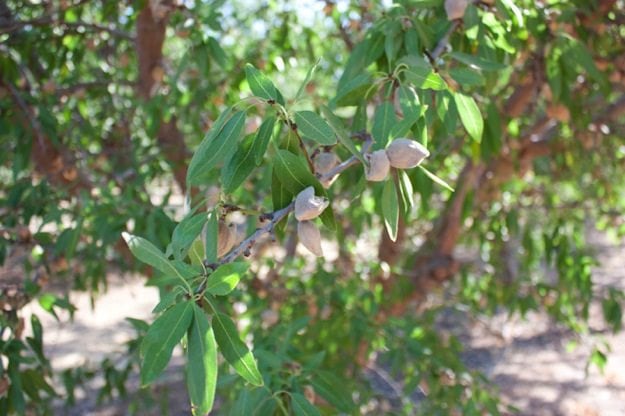 5.) Green almonds are simply unripe almonds that are retrieved from the tree early. I haven't tried them but apparently they're tasty and rather trendy in the fine dining restaurant scene.
6.) Almonds aren't hand picked off the tree! Once the hulls split open, the trees are shaken by a machine called the shaker and the almonds fall to the ground. They lay out in the orchard floor to dry in the California sun before being swept up by a machine called the sweeper. Clever machine names, huh?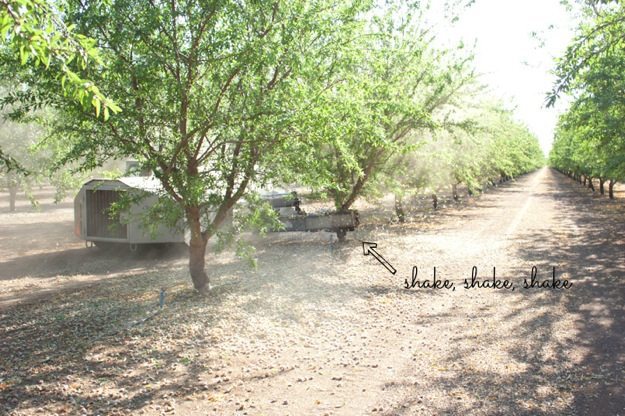 It's raining almonds! Yippee.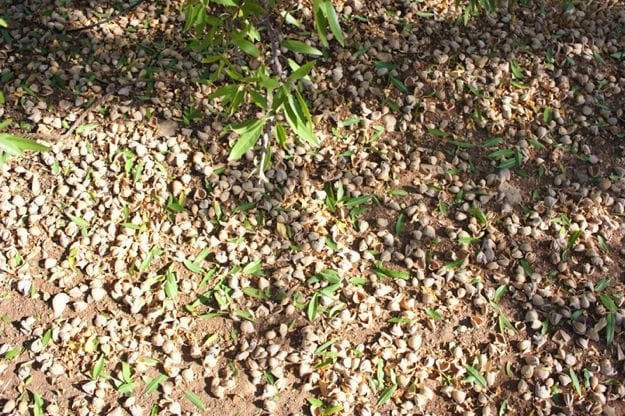 7.) Almonds are used commercially in cereals, baked goods, and other products but the chocolate industry is the single largest user of almonds. Chocolate + almonds = match made in heaven.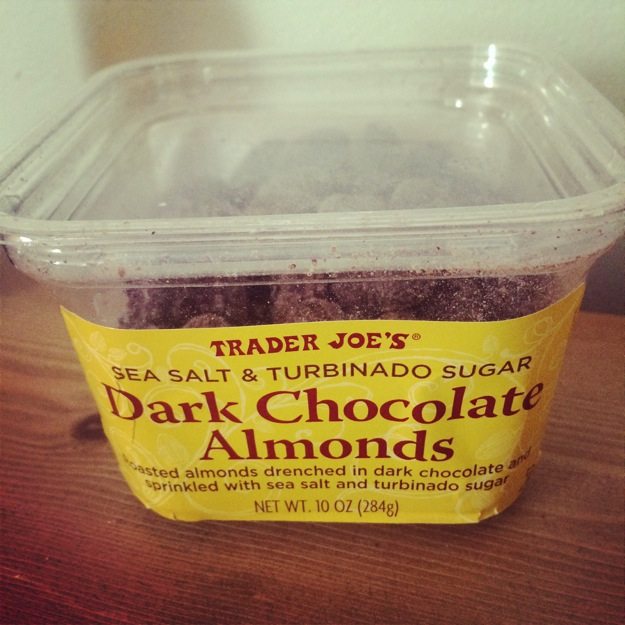 These babies are pretty much amazing and 100% addictive. You've been warned.
8.) As you may know, California is in a major draught and it has affected everyone, especially farmers. The almond board focuses on sustainability and has been working for more than 20 years on research to use water more efficiently. Innovative irrigation and farming practices over the last two decades have led to a 33% decrease in water use per pound of almonds produced.
9.) All commercially sold almonds from the US are pasteurized to prevent salmonella and other bacteria growth. Pasteurization doesn't change the nutrition of the almond but even those labeled raw in stores have been pasteurized. If you're on the hunt for truly raw almonds your best bet is to visit a farmers market in California.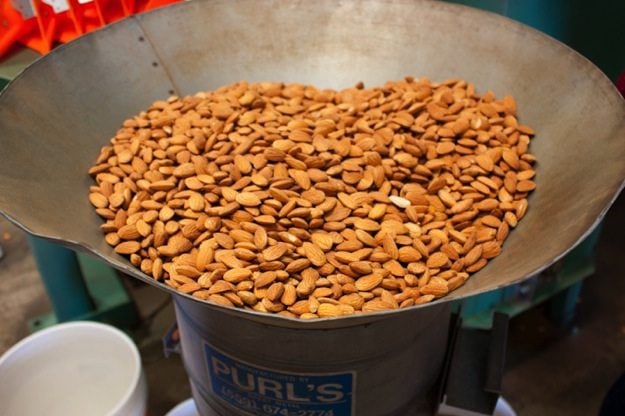 10.) Almonds are a smart snack because they offer an awesome crunch (love that crunch) and a good amount of heart-healthy fat and protein to keep you feeling satisfied! They have been proven to help lower cholesterol levels and when compared ounce for ounce, almonds are the tree nut highest in fiber, calcium, vitamin E, riboflavin and niacin. They're also among the lowest in calories.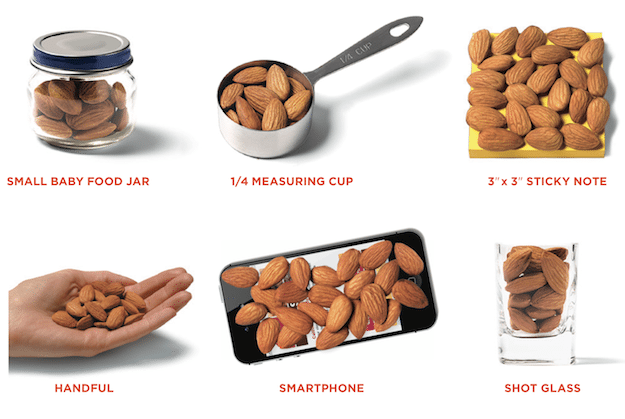 When measuring out a perfect portion of almonds, remember 1-2-3. 1 ounce is about 23 almonds or 1/4 cup, one shot glass, one handful, etc. See the photo above for more ways to measure the perfect portion.
My perfect portion size for almonds is below. 😉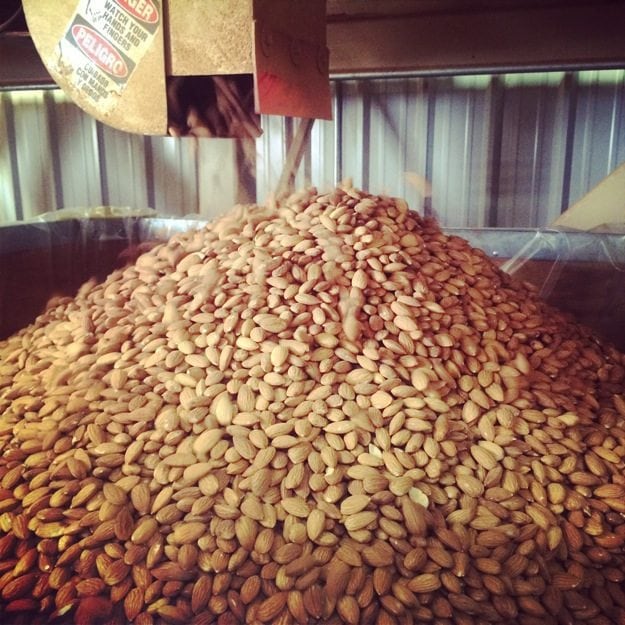 This container was literally big enough for me to fit inside and go swimming in a sea of almonds. I almost dove in!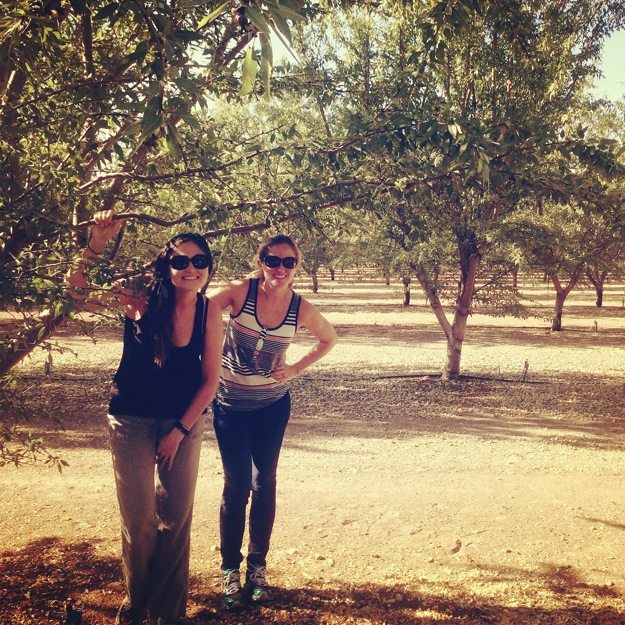 While on the trip I got to hang out with old friends (like Anne) and meet a ton of new friends — lots of Registered Dietitians and a few health and wellness bloggers.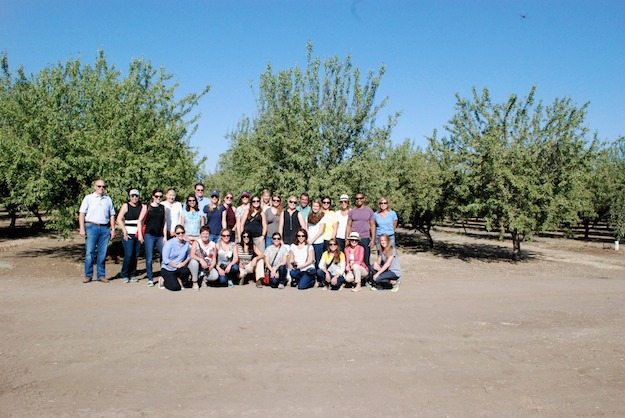 The whole group at the Steward and Jasper Orchard.
We stayed at Wine and Roses in Lodi, California and enjoyed dinner out at several local restaurants including School Street Bistro and Rosewood Bar & Grill — both had special menus for our dinner with lots of almonds involved. One night we had an almond cooking demonstration by Matthew Accarrino, the Executive Chef from SPQR in San Fran. Everything was delicious and I'll be sharing an amazing recipe inspired by his demo soon.
Overall, I thoroughly enjoyed this trip and feel so much more knowledge about almonds now. I'm always amazed at all the moving parts that go into food production. I think learning where our food comes from is so beneficial. It really puts things into perspective and makes you realize how much hard work goes into bringing food to the grocery shelves!
Have you ever been to an almond orchard before? If not, which of the facts shared was most interesting or surprising to you?
The Almond Board of California hosted my stay in Lodi, CA for the almond orchard experience but I was not compensated or required to write this post.