The snow storm I mentioned in my last post was no joke. It covered Richmond with a nice coating of snow — about seven inches outside of our house. I know most Northerners probably think seven inches is something to laugh at, but we're in the South and things sort of shut down when we get this much snow. Case in point, I was supposed to be flying to Minneapolis yesterday morning, but my flight was completely cancelled. Such a bummer because I missed out on a fun blog trip, but the good news for you guys is that I was able to work on this new ab workout to share.
I'll never stop posting healthy recipes, but one of my goals for 2015 is to feature more workouts here on EBF. I've posted a few over the years, but it hasn't been a consistent thing and they've never included photos because in order to do that I need someone to take the photos. Luckily for this one I found a cute photographer. His name is Isaac. 🙂
Since this is one of the first workouts I've done with photos, I made it short and sweet with four of my go-to ab moves. You do each move, following the prescribed number of reps below, in a circuit style and repeat for a total of three times. It should only take about 10 minutes to complete.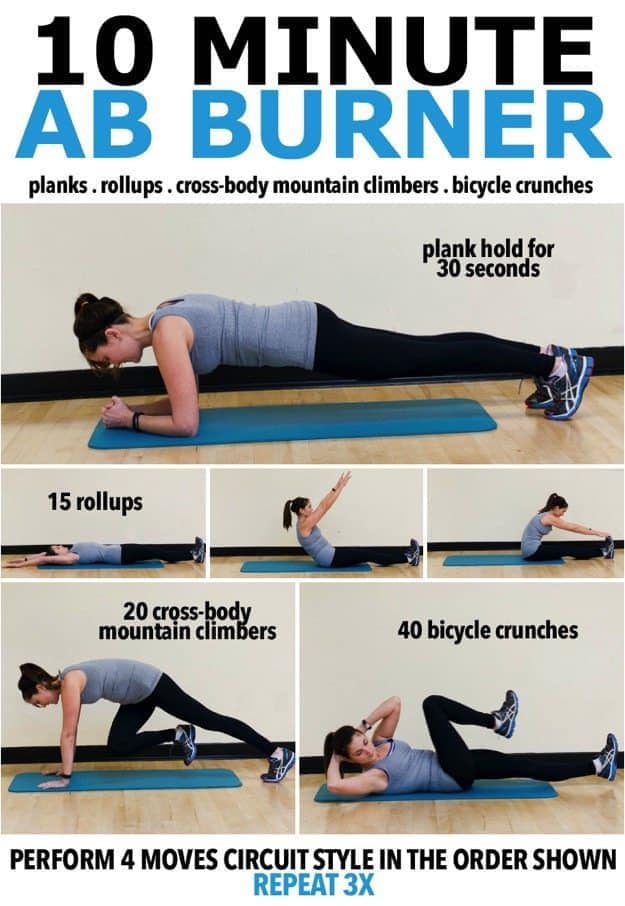 30 second plank hold: Hold plank in a forearm plank position. Make sure your body is in a straight line and your abs are contracted.
15 Rollups: Lie face up with your arms stretched overhead. Inhale and begin to curl your upper body off the floor. Exhale when you're halfway up and continue rolling forward to reach toward your toes. Inhale and reverse the move, exhaling halfway down. Repeat.
20 Cross-body mountain climbers (10 each side): In high plank position, raise your left knee towards your right elbow, lower, and then raise your right knee to your left elbow.
40 Bicycle crunches (20 each side): Lie face up with your fingers resting on the sides of your head. Lift your shoulders off the floor and hold them there. Twist your upper body to the left as you pull your left knee into your body towards your right elbow. Straighten your right leg at the same time. Return to starting position and repeat, bringing your right knee towards your left elbow.
The best part about this workout (besides the fact that it only take 10 minutes) is that you don't need any gear, just yourself and a mat. And the mat is totally optional — I did it last night on our living room rug while watching Chopped. 🙂
You can squeeze this workout in whenever you have an extra 10 minutes — right when you wake up in the morning, before you go to bed at night and/or after your regular cardio or strength training routine. Anytime really!
Definitely let me know if you end up trying the workout. I can't wait to hear what you think.
What's your favorite muscle group to work? I love working my arms and abs.