Last night was the premier of Toned Up, the Tone It Up girls' new show on Bravo. If you've been reading EBF for a while you'll know that I think that Katrina and Karena are awesome and I truly admire all that they do to help ladies love their bodies, get fit and be happy and healthy. In addition, I think it's amazing to learn the story of how they've grown their business from sharing fitness videos on YouTube to a huge brand! They are such an inspiration!
Anyhow, I watched the show with a few friends last night. <– Thanks for making the late night trek out in the cold rain Liz and Brittany. I thought the show was fun to watch and was seriously cracking up during a good portion of it!
I've collaborated with the girls before and met them last year when I was in L.A. and it seems like they're really just being their normal, spunky, fun-loving selves and I love that. My only complaint is that the show is too short! 30 minutes on Bravo is like 15 minutes of actual show time because they repeat stuff after every commercial break to make sure you know what's going on. Oh well, I'm so happy for Katrina and Karena and will be tuning it each Thursday (OR recording it and watching on Friday because 10:30PM is a little late for this working gal).
Okay, on to the recipe! Since I knew a couple ladies would be coming over to watch the premier I made some snacks, including these little guys:
Hopefully you all aren't tired of cookie recipes…
These ones are super healthy and totally New Year's resolution approved. They're a nutritious treat for detoxing after too many holiday cookies — hence the reason I included detox in the name.
Coconut Carob Chip Detox Macaroons
Author:
Eatingbirdfood.com
Ingredients
½ cup almond flour
1 cup unsweetened shredded coconut (I use the Let's Do Organic brand)
¼ cup maple syrup
3 Tablespoons extra virgin, unrefined coconut oil
3 Tablespoons carob chips
½ teaspoon vanilla
⅛ teaspoon sea salt
Instructions
Preheat oven to 300°.
Stir together almond flour, unsweetened shredded coconut, maple syrup, coconut oil, vanilla and sea salt in a medium sized bowl.
Place carob chips in a food processor or mini chopper and give it a few pulses to break the chips into smaller pieces, but not so much that you make carob powder out of them.
Use a Tablespoon to scoop batter onto a cookie sheet lined with parchment paper.
Bake for 22 minutes. Remove from oven and let cool -- they will firm up as they cool so wait about 15 minutes or so before serving or transferring to a sealed container for storage. You can store them in the freezer if you want to keep them for even longer. They should last a few months in the freezer.
Nutrition Information
Calories:
107
Fat:
6
Carbohydrates:
7
Sugar:
5
Fiber:
1
Protein:
1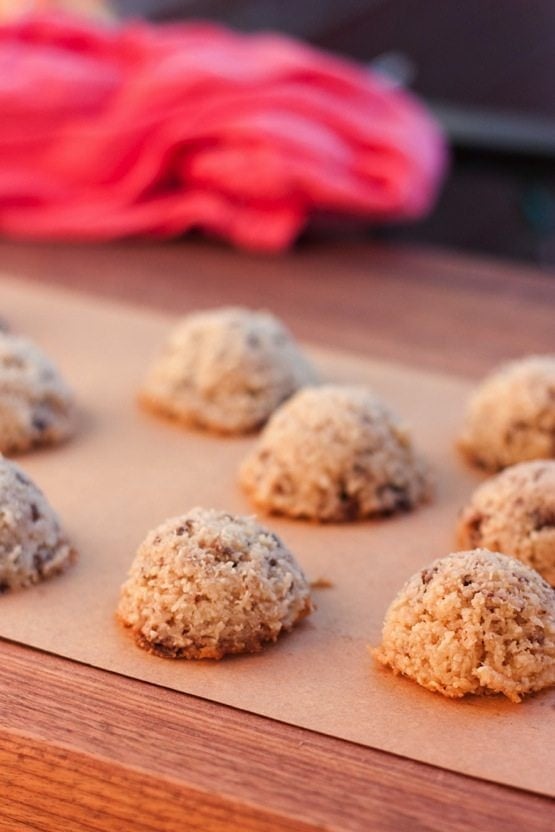 Have a lovely weekend!